*This post contains affiliate links.
It's time for the November Pinterest Challenge, hosted by My Pinterventures! Since the theme for this month is Christmas, I decided to post one of my best Christmas gift ideas- tie-dyed sweatshirts. I chose to embellish mine with paint, but you could applique a fabric shape or use a Cricut to make a heat vinyl transfer design for your tie-dyed project just as easily.
Back in March, the three younger girls and I made some tie-dyed sweatsuits. My husband said he didn't feel like he was part of the team because we didn't make one for him. So, I made one for him, my son, and my oldest daughter. Even the dog has a tie-dyed onesie. My oldest daughter lives away from home now. The Hello Kitty Grunge Dyed Sweatshirt represents her love for anime and Hello Kitty. I know that Hello kitty is not exactly anime, but the cartoon styles seem very similar to me. My pinspiration was a free printable Hello Kitty coloring sheet.
Materials for Hello Kitty Grunge Dyed Sweatshirt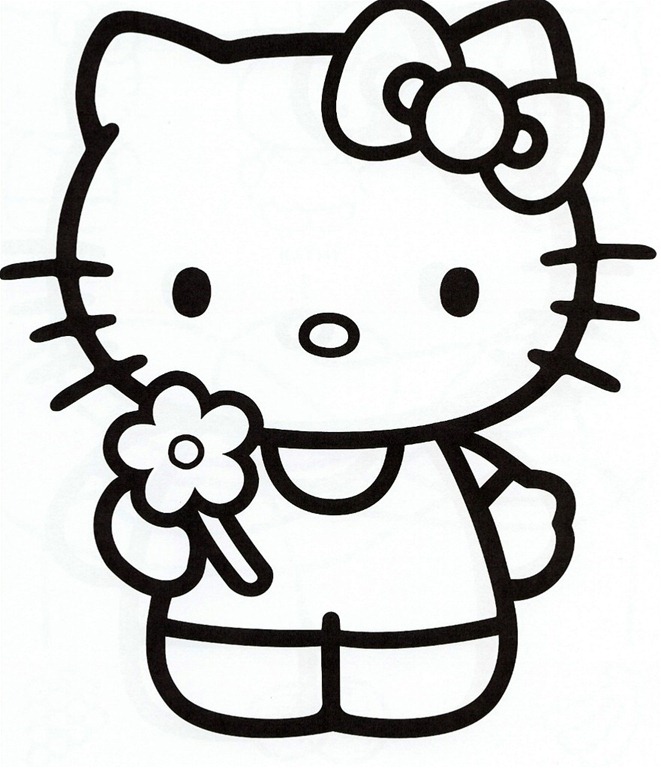 gray sweatshirt-the gray color gives it the grunge dyed look
salt
Rit Dye- Royal Purple and Super Pink
textile medium
Apple Barrel paints- 20403E White, 21486E Purple Iris, 21049E Pink Parfait, 20471E Bright Yellow, 2620E Pewter Gray, 21467E Tuscan Red, 20404E Black, 20713E Spring Green
paint brushes- 5/8″ angle brush, 1/4″ flat, round brush, liner brush
free printable Hello Kitty pattern- you can print mine from the picture above
straight pins
newspaper
colored pen
colored chalk
Grunge-Dye Instructions:
Read How to Tie-Dye A Sweatsuit for complete tie-dye instructions. For the first round of dyeing, I put one cup of salt and the banded gray sweatshirt in a washing machine filled with hot water, then poured a half- bottle of Royal Purple Rit Dye on top. I loved the result, but wanted to see what would happen if I added another layer of dye. I removed the rubber bands and washed and dried the sweatshirt after the Royal Purple Dyeing process, then applied new rubber bands. Next, I added a cup of salt, the banded sweatshirt, and half a bottle of Super Pink Rit Dye to a washing machine filled with hot water.
Transferring the Pattern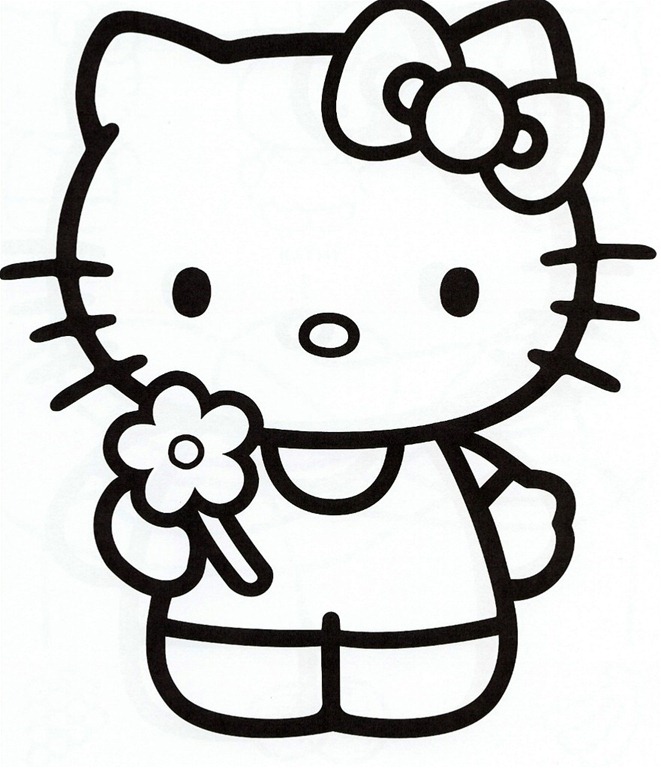 Pin or place newspaper inside the sweatshirt to prevent paint seepage. Find the center of the sweatshirt and the center of the Hello Kitty pattern. You can do this by folding each one in half. Align the center of the pattern with the center of the sweatshirt. Trace around the pattern with a colored pen that blends in with the sweatshirt color.
Time to Paint!
Paint Hello Kitty with White and the 5/8″ angle brush. Add a few drops of textile medium to each paint color as you go. Textile/fabric medium prevents fabric stiffness and bleeding. Use a blow dryer to hurry things along.
Rub colored chalk on the back of the pattern. Place the pattern over the painted Hello Kitty. Trace over the details with a pencil. When you remove the Hello Kitty pattern, you will see a chalk outline of the details that you need to paint.
Basecoat the dress and bow with the angle brush and Purple Iris. Paint her shirt with the round brush and Pink Parfait. Fill in the flower center and the nose with the round brush and Bright Yellow.
Shade the bow and dress with Black, Tuscan Red and the 1/4″ flat brush. Highlight with Pink Parfait and White with the same brush. Highlight the shirt with White and the small round brush. Paint the flower stem with Spring Green. Shade Hello Kitty and the flower with Pewter Gray. Paint the eyes and whiskers with Black and the round brush. Paint your initials and the last two digits of the year with the liner brush and White.
You're all done! Wasn't that fun? I hope you enjoyed my Hello Kitty Grunge Dyed Sweatshirt tutorial.
Merry Christmas Season,
Kristie
Subscribe to Love My Little Cottage here.
Shop This Project
Everything you need for this project can be purchased at Hobby Lobby https://wikibuy.com/s/hobbylobby.com/coupon
Now let's see what the other hosts made:
My Pinterventures • Cookies Coffee and Crafts
Slices of Life • Sew Crafty Crochet • Our Sutton Place
Purple Hues and Me • Sum of their Stories
Life Beyond Kitchen • Mom Home Guide • Cloches and Lavender
Our Good Life • Love My Little Cottage
Decorate & More with Tip • Modern on Monticello
You are invited to the Inlinkz link party!